Hotchkis
About Hotchkis
The experience of John Hotchkis and the entire Hotchkis Sport Suspension team ensures that you receive high quality products, engineered to perform and designed to be strong. Our sport suspension controls many of the fastest street cars in the country. Numerous road racing, drag racing and autocross racing teams rely and win with Hotchkis Sport Suspension products.
For discriminating drivers who demand the best, the Hotchkis Sport Suspension engineering group has developed vastly improved suspension systems that dramatically increase the pleasure of your street or track driving experience. Serious drivers understand the benefits of a properly engineered aftermarket suspension include increased stability, improved handling, and maneuverability. In keeping with our Making a Great Car Even Better theme, our suspension packages give you a comfortable ride as well.
We are proud that the majority of our staff's personal vehicles are equipped with Hotchkis Sport Suspension products. You can be confidant that as Hotchkis Sport Suspensions grows that we will continue to produce the best suspension products available. We welcome your input and comments through e-mail or by phone.
The Hotchkis Sport Suspension Advantage
Hotchkis Sport Suspension draws upon over 30 years of racing experience to develop the most effective bolt-on suspension systems available. Our suspension packages have been engineered to deliver the race-winning performance you demand while remaining comfortable enough for use on the street.
Testing, Testing, and more Testing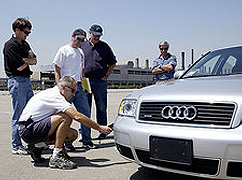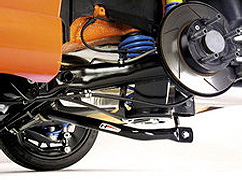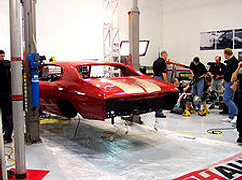 All Hotchkis suspension components go through an extensive development process that starts with the latest in computer-aided design, modeling, and engineering and ends with real world performance testing. Every Hotchkis component undergoes testing on our 600 ft. slalom, 200 ft. skid pad, and 14-turn Autocross course. Results from the ¼ mile acceleration and 60 to 0 mph braking tests are compiled. Complete data for stock and Hotchkis Sport Suspension equipped vehicles is gathered and evaluated. Performance gains are documented and any component not meeting our engineer's rigid standards of fit and performance are critiqued, redesigned, and retested.

Perfect Fit

Today's vehicles are designed and engineered with extremely tight tolerances. Our engineer's measure and then design with state-of-the-art CAD systems to ensure that our suspension upgrades operate in their intended locations away from existing suspension and exhaust components. We strive to produce performance suspension that installs with little or no vehicle
modifications.

Apperance and Durability

Not only are Hotchkis Sport Suspension components engineered to fit properly, they are finished in appropriate great looking durable finishes including gloss powdercoating bright polish, colorful anodizing, silver zinc and gold cad. plating. We understand that our customers are not only concerned with improved handling; they are also fanatics about excellent looking suspension products.

Hotchkis Total Vehicle System (TVS)

The Hotchkis Total Vehicle System (TVS) is a complete handling solution for your vehicle. Available as a Stage 1 or Stage 2 package, Hotchkis TVS kits are designed to deliver the maximum handling from your ride and make choosing the right parts for the job a breeze. No more mixing and matching parts – with a TVS suspension package every component is designed to complement the others and will work right the first time. These tuned suspension packages eliminate the poor ride quality and disappointing handling that often results from the use of mismatched components from multiple manufacturers.

Products

(

Total Items: 0

)

'